TucmangoriA



Learn More About Me, And View My Pictures.

Visit My New Company STdesigners For Your Web Designs!!!

Check Out My Poem And My Morals !

Check Out The Awards I Received

Apply For My Awards.

Check Out My Brother's Photo Album

The Intelligence Test: How Smart Are You Really?


AIDS: What Students Should Know About It !

Personal Home Pages And Cool Links


Check Out My Cat

The TucmangoriA Cat Dance
Sign My Guest Book

View My Guest Book
Send Me An E-mail




Please note: You must have ICQ in order to use the Add me, Message me and Chat me buttons.

This site is powered by the ICQ Banner Exchange Panel © 2000 ICQ Inc. All Rights Reserved.
The use of the ICQ Banner Exchange Panel is subject to the ICQ Tools Notice
and the other ICQ Terms of Service documents.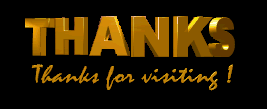 This Page Was Last Updated On December 13, 2001.
2001 © TucmangoriA. All Rights Reserved